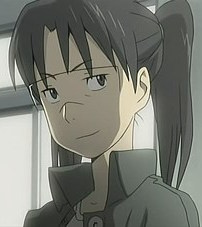 Yūko Amasawa (天沢 勇子: Amasawa Yūko) is a character in the series Dennō Coil. Nicknamed Isako, which is another reading of 勇子 meaning "brave girl", Yūko Amasawa is a powerful type of hacker known as an "encoder" (暗号屋, angōya?)
who is able to manipulate the electronic infrastructure through sophisticated chalk patterns. Rumored to have familial ties to an AR technology company, Isako uses a Brain-Computer Interface to interact with the virtual world—a function hidden inside the hardware of AR visors and eyeglasses. Isako is, on the surface, extremely arrogant and antisocial, perceiving human relationships strictly as hierarchies of power and manipulation. Isako relentlessly chases special illegals in order to collect kirabugs. She is secretly driven to this task in the hopes of finding her brother in "the other side".
Yūko Amasawa

Name:

Yūko Amasawa

Age:

11

Nationality:

Japanese

Hair Color:

Black

Eye Color:

Dark Green/Blue

Occupation:

Student

Voice Actor:

Houko Kuwashima

Birthdate:

April 4th, 2015
She is voiced in the Japanese dub by
Houko Kuwashima
.